Insurance Services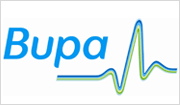 Medical Insurers
Expert Private Medical Insurance
Bupa policy holders have access to 180 private hospitals and Bupa is the leading provider for cancer cover in the UK.
Bupa was established more than 60 years ago in the UK and is now an international healthcare company with customers in 200 countries, serving over 10 million customers.
With a solid presence in the corporate market, BUPA boasts more than half of the UK's top businesses as its customers.
Frequently Asked Questions